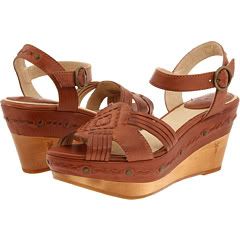 There are some seriously stylish
new Frye platform wedge sandals
coming down the pike this year - just in time for spring to "spring," - for those ladies who love a platform style, the
Frye Carlie Huarache
platform and the
Frye Corrina Woven
platform sandal may cause some ladies to swoon! =)
Each of these sandals has a lovely feminine appearance, and each of them - while being very much in fashion - is quite unique.
Frye Carlie Huarache Platform Wedge (see top left photo)
- The huarache (woven) pattern on the vamp of this sandal is what makes it truly special. This fact coupled with the curves of the platform sole and the lower curve of the heel gives this new sandal a look all its own. (We are predicting that this will be one of the more looked for styles among the Frye collection this spring and summer.) Also - it comes in six colors (at this writing), including a Slate color, Red, Cognac, Mustard, Dark Brown and Natural. (
Click here
to find the Frye Carlie Huarache @ The Fashion Fiend)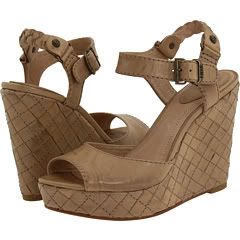 Frye Corrina Woven Platform Wedge (see photo right)
- This style has quite a bit more height than the Carlie Huarache, and a completely different look. The ankle strap has a lovely woven pattern to it, and the platform wedge bears a quilted pattern - there is no other shoe available quite like this. It is simply lovely - and the cut of the strap over the vamp will allow the shape of a woman's foot and legs to be enhanced. Gorgeous! (
Click here
to find the Frye Corrina Woven Platform Wedge @ The Fashion Fiend)
There are other platform heel sandals available this year, but specifically for the new Frye platform wedge sandals the above are the picks - unless more are released before summer of 2011!