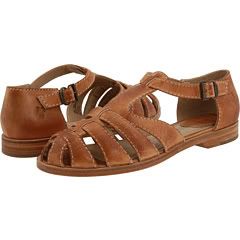 For those ladies who like the look of a flat-soled sandal, and also appreciate the elegance of women's Frye footwear, you will be happy to know that for the spring and summer of 2011 there are a couple of
new Frye flat sandals
for 2011to pick from, including
Frye Julie Fisherman
Sandals and
Frye Laurel Ring Thong
Sandals.
While each of these sandals is gorgeous in its own right, they are quite unique from each other.
Frye Julie Fisherman (see photo top left)
- This is a sort of "blast from the past" - remember when fisherman sandals were quite popular? Well, they are here again for ladies, yet they offer a few more feminine touches. These are the perfect sandal that you could literally wear with just about anything - it will look great with skirts, shorts, jeans - whatever. (
Click here
to find the Frye Julie Fisherman sandal @ The Fashion Fiend)
Frye Laurel Ring Thong (see photo right)
- Here is a truly delicate look in a thong style sandal. It is a follower to a couple of other versions of the Frye Laurel (I believe that they were introduced last spring and summer). The different with the Laurel Ring is the look of the vamp - delicate ring designs that add quite a bit of looks to the sandal. (
Click here
to find the Frye Laurel Ring Thong @ The Fashion Fiend)
Interestingly the majority of new Frye sandals this year are high heeled versions - they are lovely as well, and worth giving a check - that is if you are a lady who doesn't mind the heel. Otherwise, the Frye Flat Sandals listed above will likely be more up your alley.