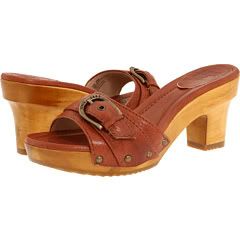 Among the collection of styles from Frye that are being introduced for spring and summer are a couple of gorgeous
new Frye high heel sandals
. These include the
Frye Savannah Buckle Slide
sandal, as well as the
Frye Tamara Buckle
T-Strap style sandal.
For ladies who like a look of a bit of a lower "high heel," the Savannah Buckle Slide would be an excellent choice, while the sultry and feminine look of the Tamara T-Strap is a great choice for ladies who prefer a bit of a higher heel.
Here is a bit of information on each of these styles for spring and summer 2011:
Frye Savannah Buckle Slide (see photo top left)
- This lovely sandal follows in the footsteps of the Frye Savannah Buckle 2-piece, and while it has a similar look with the buckle on the vamp, the slide version has a look of its own. It has a heel height of about 3 inches, and would look adorable with shorts, skirts or even jeans for the warm weather months of the year. (
Click here
to find the Frye Savannah Buckle Slide sandal @ The Fashion Fiend.)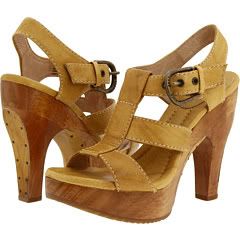 Frye Tamara Buckle T-Strap Sandal (see photo right)
- Hello! These are gorgeous - they have a 5 inch heel with a platform of 1 1/2" and are available in a rather wide variety of shades. There is an interesting curved cut-out (for lack of better words) in the back of the heel with detailing that adds just the right touch of interest and a unique "Frye" look. (
Click here
to find the Frye Tamara Buckle @ The Fashion Fiend)
Both of these styles are truly feminine - and unique. But, one thing that these new Frye high heel sandals have in common is a down to earth sort of vintage touch - which is one of the things we love most about Frye footwear.